Article From News From Bangladesh archives
---
Arsenic Poisoning in West Bengal : A Dubious Tradition - 18 Jul 02
Dipankar Chakraborti
Madanpur is a remote village of total population of about 300. Madanpur is situated in Murshidabad district, at Bhagabangola Block and under Akhriganj Gram Panchayet. Murshidabad is one of the most arsenic affected districts of West Bengal. Madanpur is one of those innumerous villages of West Bengal whose importance is its mere existence. I traveled with our medical group to Madanpur for an arsenic survey on 4th February, 1992. There were no roads leading to Madanpur. Anybody deciding to go there had to overcome a pseudo-expedition and had to undertake a laborious trek over dirty and dust of barren tracks for a duration of about three hours. We registered a shocking 150 member with arsenical skin lesion almost half of their population. They believed that God's curses and sins of their previous birth were what were causing the diseases.
I tried to imbibe among them the knowledge that they were suffering of arsenic toxic substance present in their hand tubewell water. The only medicine of this disease is water safe to arsenic, fresh fruits and vegetables. Though meat, fish and egg do help, but, for those poor villagers they were an ecstasy. I tested tubewells of the neighboring village and found a few to be free of the harmful arsenic. I asked the Madanpur people to drink water of those. They showed dissent over the proposal and most declared that it was difficult to fetch water from such distance. Madanpur had three tubewells. On an average those three tubewells pumped up water with arsenic quantity over 715 m g/l.
Madanpur symbolized the massive toxic power of the arsenic to corrode out human life. A village senior and arsenic patient pointed towards his daughter-in-law, proclaimed beauty once, now carried only traces of that by gone brilliance. The beauty has been devoured by arsenic. I was surrounded by children. The children all aged between 6 – 11 years and shockingly about 40% of them were arsenic victims with skin lesions.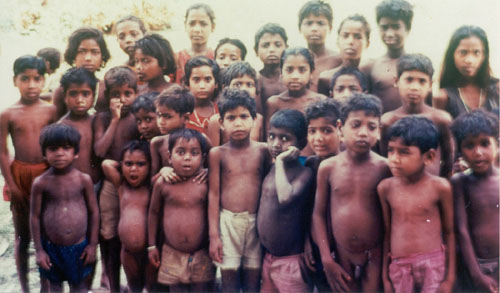 Those children shook my stupor. I took a photograph (Photograph-1) of that tragic lot. It was printed on the first page of the souvenir published commemorating the International conference on arsenic, in Calcutta, February 1995. I spoke to the government, the newspapers – I attempted to make people aware. Then gradually the diabolic proportions of arsenic at Madanpur sunk Lethe-wards in my memory.
10 years later I was again working at Bhagabangola Block of Murshidabad district. I met many old faces, I missed many of them. Those seriously ill, previously, have passed away. Those who have survived were anatomically little better than mere brittle skeletons. A good proportion has turned decrepit. Many have developed wounds, which have not healed and are leading to cancer. The diseased themselves imparted information on a major number of newly infested villages. Arsenic has attained epidemic stature.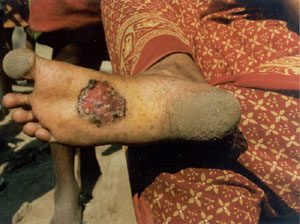 During December 18-22, (2001) and March 1-5, (2002) we made a survey at a few blocks of Bhagabangola. To our utter horror, we detected 1947 arsenic patients, 20 probable cancer patients (Photograph-2) and 70 probable Bowen's disease patients. Murshidabad district's 30,000 tubewell water analysis for arsenic and patient detecting have placed us face-to-face to a disastrous statistics, in Murshidabad alone, we expect 10 lakh people consuming water with arsenic content over 50 microgram per liter (which is the maximum permissible limit of WHO) and may be 1 lakh have arsenicosis out of a total 50 lakh population.
On 3rd March, 2002 while working at Najirpur village of Akhriganj Gram- Panchayet I came across the information about the village Madanpur again. Initially the thoughts of the prevalent terrible transportation system declared against my wish to have a visit to the village. The denizens supplied lots of hope in the tune of information that now car may go up to Badhpur village and then only a 10-15 minutes walk will get us to Madanpur. We decided to go to the Madanpur village.
A nostalgia gripped me at the sight of the rural setting of the village. Madanpur stood unchanged before my eyes. The uneven landforms, small huts, thatched roofs took me for a trip down the memory lane. The picture registered 10 years back seemed intact without even the mildest stain. I searched frantically for that senior villager I met 10 years before. The villagers informed me that he was no more but his once beautiful daughter-in-law still was there.
The lady, was now biologically 30 years old, yet, appearance wise, she looked like a lady of an age almost half a century. Panting with a baby in her laps, the lady epitomized the decay of the disease over the last decade. I queried off Guddu, Tony, Babu … those who were featured in the once famous picture of the affected children in the souvenir. The lady replied that some of them who were in working condition are at their respective work places. Others, relieved of their working ability have taken shelter into their houses. She also called on some of them. The boys of the ill-famous picture were now beyond their youth. In fact they seemed to have lived their entire life in the 10 years that have slipped through the careless fingers of time. They were plagued by the cold touch of death. Devoid of élan-vital they seemed like walking carcasses which the carrion-eater called arsenic has nibbled up slowly.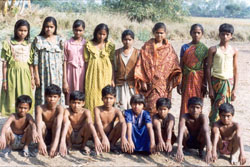 But I was surrounded by children who carried prominent signs of arsenicosis (Photograph-3). I wondered who they were? Were they the same children that of the photograph? No, they were a new generation. Yet they shared the same qualities of those in the picture. I felt that I have walked into the picture, which I took ten years ago. I felt that time has not moved a step since then. Rather the tradition of death, as the arsenic has put it forward, has been continuous. It has successfully overcome the effects of Chronos.
Though ironic, I incidentally remembered a childhood anecdote from the feature India (Bharatbarsha) by the famous writer Wazed Ali. The author once revisited Calcutta after 40 years and to his dismay discovered a very queer picture. He caught a glimpse of an old shopkeeper, bespectacled and wearing a vest, reading out the big Epic Ramayana aloud to his grandchildren who have flocked him. The author was mesmerized. This scene was familiar to him. He saw it after 40 long years! He felt the rich vein of culture running down the mega-structure called India. Amused, the author commented, "the tradition still continues!" Sadly arsenic portrays a similar picture of unfazed tradition.
Dipankar Chakraborti is Director and Head School of Environmental Studies
Jadavpur University Kolkata – 700 032 India, His contact details :
Tel: 91 33 4146233, 4148760
Fax: 91 33 4146266
Email: dcsoesju@vsnl.com
---
---
Copyright © 1998 Global Amitech